SFP stands for "small form-factor pluggable" and transceiver means a device that can both transmit and receive data. This article "SFP Transceivers Explained" is intended to describe all about SFP transceivers in detail that could help network professionals understand about SFP optics and its types.
SFP Transceivers Explained in 5 minutes | All You Need to Know
The SFP transceiver is a compact, hot-swappable device that plugs into a physical port of a network device. SFP optics are used in communication networks and have a transmitting side (Tx) and a receiving side (Rx). The transceiver has a laser which communicates to the receiving side of the other optic on the other side.
SFP optics are designed to support several communication standards including SONET, Gigabit Ethernet and Fibre Channel. SFP interfaces on networking devices such as routers provide a modular interface that can be readily adjusted to fiber optic and copper networking specifications.
The SFP is also known as miniGBIC. GBIC is the Gigabit Interface Converter (another transceiver model) and since the SFP is smaller than GBIC in size, it is called miniGBIC therefore. SFP came into existence later than GBIC and serves the same purpose as GBIC module but because of its smaller size, SFP has replaced the GBIC in most applications today.
SFP usually comes with the LC connector (Lucent connector) unlike GBIC that generally comes with the SC (Standard connector). Just to clarify, LC and SC connectors are fiber-optic cable connectors that are differentiated based on their sizes.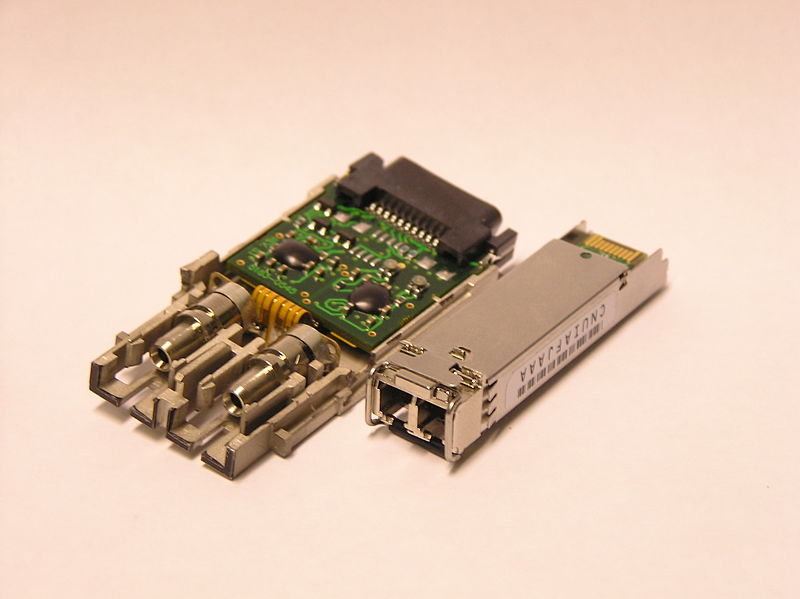 Different SFP transceivers work with different wavelengths at an appointed distance. For instance, 1000BASE SFP LX uses 1310 nm for a maximum of 10 km over single-mode fiber and 1000BASE-ZX could reach 80 km. 1000BASE-T uses copper RJ45 interface.
Single-Mode SFP vs Multi-Mode SFP:
The SFP transceivers can work with different types of optical fibers. The SFP optics that work with single-mode optical fiber are called single-mode SFPs and those that work with multi-mode fiber are known as multi-mode SFPs.
Single-Mode SFP
Single-mode fiber (SMF) has a smaller core and narrow wavelength path. This means that SMF carries higher BW and can reach longer transmission distances. SMF SFPs work primarily in 1310 nm and 1550 nm wavelengths and can reach distances ranging from 2 KM to 120 KM.
SMF Optics are identified as follows:
The colour coded bale clasp and colour arrow on the label are generally blue, yellow or purple
The colour of the compatible fiber optic patch cord is yellow
Multi-Mode SFP
Multi-mode fiber (MMF) uses a much bigger core and a longer light wavelength. The MMF SFPs are used for short distance transmissions up to 500 m and optics used with MMF are cheaper. MMF SFPs work in 850 nm wavelength. Although it is not able to transport for long distances, it can transport many kinds of optical signals.
Just like SMF Optics, MMF SFPs are also identified by Bale Clasp colour.
Black color coded bale clasp designates a Multi-mode SFP
The color of the compatible fiber optic patch cord or pigtail is orange
Things to Check with SMF and MMF SFPs:
Make sure that both ends of the fiber patch cord have same wavelength SFPs and the colour modules are consistent.
Confirm the transmission distance and wavelength while choosing the SFP module. Short-range SFPs to be used with Multi-mode fiber and long-range SFPs to be used with Single-mode fiber.
Do not bend the fiber optic or else attenuation will increase.
Safeguard the Optical bore using dust plug when not using the SFP.
Last but not the least, check and verify correct cost for transceiver modules as prices keep adding up over time.
In today's world, 10G speeds are also achievable with SFP optics. The 10G SPF transceiver modules are referred to as SFP Plus. Before we discuss SFP+ transceivers, let us first look at some standard SFP optics.
1000BASE-T SFP: This SFP transceiver is the RJ-45 version. It operates on standard CAT 5 UTP copper cable of link lengths up to 100m distances.
1000BASE-SX SFP: The SX version SFP transceiver works on Multi-mode fiber using a 770 to 860 nm wavelength and links up to 100 to 550m.
Remember that 1000BASE refers to a Gigabit Ethernet connection whereas "X" denotes the block coding for Gigabit Ethernet and "S" means short-range multi-mode optical cable.
This standard is quite popular for intra-building links in large offices and Internet exchanges. Practically speaking, if the fiber is of good quality with proper terminations and optics, 1000BASE-SX will usually work over significantly longer distances.
1000BASE-LX SFP: The LX type transceiver is implemented using either single-mode fiber-optic cabling or multimode fiber-optic cabling and covers a max of 10 KM.
As discussed earlier, the1000BASE refers to a Gigabit Ethernet connection whereas "X" denotes the block coding for Gigabit Ethernet. However, "L" here means long-range single or multi-mode optical cable.
1000BASE-EX SFP: The 1000BASE-EX is very similar to 1000BASE-LX10 but achieves longer distances of up to 40 KM over a singe-mode fiber, running on 1310 nm wavelength.
It is a non-standard industry accepted optic that is also known as LH (Long Haul).
1000BASE-ZX SFP: This is a non-standard multi-vendor transceiver and uses 1550 nm wavelength to achieve distances of 70-80 KM over single-mode fiber.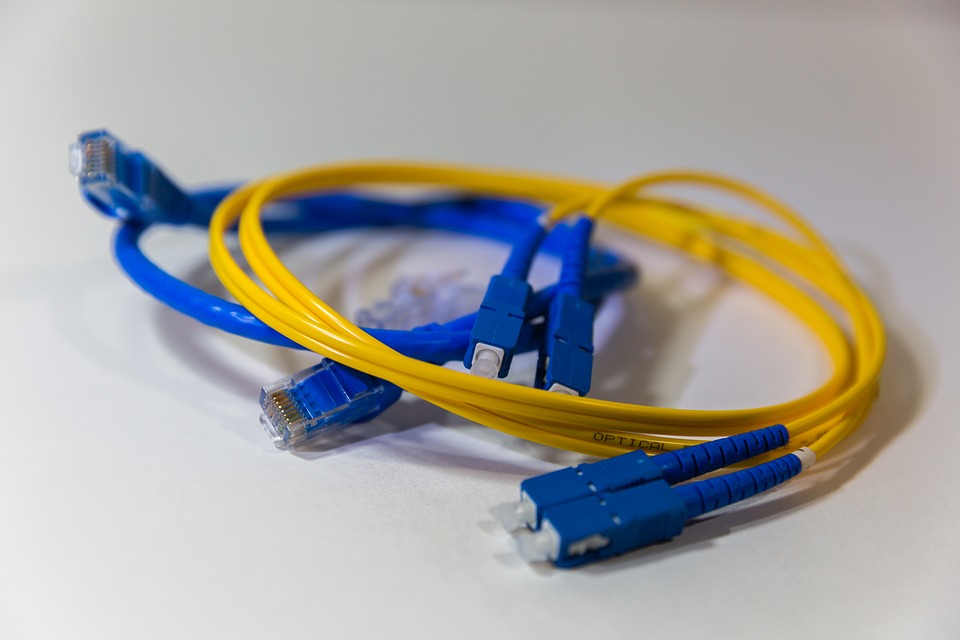 CWDM SFP Transceivers: CWDM (Coarse Wavelength Division Multiplexing) is a kind of optical transceiver that involves CWDM technology. Like any conventional SFP, CWDM SFP is also hot-pluggable and plugs into an SFP port or slot of a network device linking it to the fiber optic network.
It is an easy and cost-effective solution for adoption of Gigabit Ethernet and Fibre Channel (FC) in campus, data-center, and MAN (metropolitan-area access networks).
CWDM SFP transceivers can be found with a variety of different transmitter and receiver types, allowing appropriate transceiver for each link to provide the required optical reach over the available optical fiber
DWDM SFP Transceivers: DWDM (Dense Wavelength-Division Multiplexing) transceivers are a part of DWDM optical network and render high BW and high performance across optical fiber networks. Being multi-rate interfaces, they support any protocol from 100 Mbps to 4.25 Gbps.
The DWDM SFP is designed to accept DWDM SONET/SDH for 200 KM links and Ethernet/Fiber Channel protocol traffic for 80 KM links.
Difference Between LX, LH and LX/LH SFPs:
Many people get confused between LX, LH and LX/LH SFPs. LH and LX/LH are compatible with 1000BASE-LX standard.
1000BASE-LH SFP operates a distance up to 70km over single-mode fiber. 1000BASE-LX/LH SFP can operate on standard single-mode fiber-optic link spans of up to 10 km and up to 550 m on any multimode fibers.
SFP Plus:
SFP Plus or SFP+ is an upgraded version of SFP transceiver with higher data rates of up to 16 Gbps.
SFP+ is the 10G fiber optic transceiver used for 10G Ethernet and other high speed transmissions in order to meet increasing BW demands. SFP+ interconnects are designed to support 8 Gbps Fibre Channel, 10 Gbps Ethernet and Optical Transport Network.
SFP+ modules are exactly the same dimensions as regular SFPs. Connectors, cable assemblies, light-pipe cover assemblies and sealed optical assemblies are also same for both SFP+ and SFP.
Note that for most vendors, it is possible to fit an SFP module into an SFP+ slot but not vice versa.
How to Install SFP Transceivers?
To install an SFP transceiver, below steps can be followed:
Remove the SFP transceiver module from its protective packaging without removing the dust plug
Verify the label on the SFP transceiver body to confirm the correct model SFP required for the network
Locate the send (Tx) and receive (Rx) markings that identify the top side of the SFP transceiver
Place the SFP transceiver in front of port and insert it until it snaps into the socket
Remove the dust plugs from the SFP transceiver optical bores
Attach the network interface cable LC connector to the SFP transceiver at once
Connect the SFP transceiver to your target device with specific copper or fiber cable
Observe the port status LED
This video explains the process of SFP module installation in a much more comprehensive way.
XFP and QSFP:
XFP appeared before SFP+ and is also a standard 10 Gbps fiber optic transceiver.
It is protocol-independent and fully compliant to different standards including 10G Ethernet, 10G Fibre Channel, SONET OC-192 and SDH STM-64.
XFP modules are commonly available in several different categories:
SR – 850 nm, for a maximum of 300 m
LR – 1310 nm, for distances up to 10 KM
ER – 1550 nm, for distances up to 40 KM
ZR – 1550 nm, for distances up to 80 KM
The electrical interface to the host board is a standardized serial 10 Gbps interface called XFI. XFI is sometimes pronounced as "X" "F" "I" and other times as "ziffie."
On the other hand, QSFP is short for quad (4-channel) small form-factor pluggable. It is a compact, hot-pluggable transceiver also used for data communications applications.
Nowadays, QSFP+ is gradually replacing QSFP and is widely used by people as it can provide higher bandwidth.
There is another QSPF transceiver module called QSFP28. It is a high-density, high-speed product designed for 100Gbps applications. QSFP28 100G optics offers four channels of high-speed differential signals with data rates ranging from 25 Gbps up to potentially 40 Gbps, and finally meet 100 Gbps Ethernet (4×25 Gbps).
Digital Diagnostics Monitoring:
Modern optical SFP transceivers support Digital Diagnostics Monitoring (DDM) that gives customers the ability to monitor real-time parameters of the SFP such as optical output power, optical input power, temperature, laser current and transceiver voltage.
This feature is also known as Digital Optical Monitoring (DOM)​. Measurement of live parameters through DOM/DDM can help network administrators to check and ensure that the module is functioning correctly.
In case you have any questions or feedback, please do comment below and I will surely get back to you as soon as possible. Also, If you liked this article, then please subscribe to our Youtube channel – Our Technology Planet for more exciting stuff and videos.
The following two tabs change content below.
IP MPLS & Enterprise Core Network Engineer, CCIE# 52939
Haider Khalid is an IP MPLS & Enterprise Core Network Engineer (CCIE# 52939) who has worked with several ISPs & Telecom operators in Pakistan, Middle East and the UK. He is always keen to learn new technologies and likes to share them with his peers and other people. In case of any questions or feedback, please feel free to drop a comment below or connect with him on LinkedIn.
Latest posts by Haider Khalid (see all)