Cisco is the worldwide leader in IT and networking world which offers certification exams in following different tracks. Let us have a look at the Cisco Certification Guide and its different tracks below:
Routing and Switching
Service Provider
Collaboration
Security
Wireless
Data Center
Design
Cloud
Industrial
Cybersecurity Operations
Other than this, Cisco also offers specialists certification exams in different fields such as Operating System Software specialist, Network Programmability Specialist, Internet of Things (IoT) Specialist, Cisco Telepresence (TP) Specialist, Cisco Mobility Specialist and many more.
Cisco certifications have formed the foundation for thousands of successful careers in networking. Whether you're a beginner or a networking master, a Cisco certification can help build and prove your skills.
Let us take a look at Cisco's certification program.
Cisco Certification Program
Cisco certifications are ranked as top industry certifications and are recognized all over the world. The Cisco certification program takes you from the beginner to an expert level (shown below), covering a wide range of topics.
Entry Level
Associate Level
Professional Level
Expert Level
Architect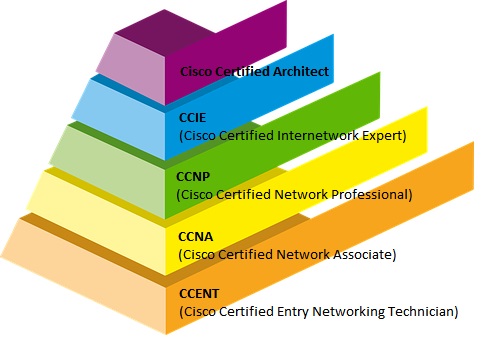 Entry Level
Both the CCENT (Cisco Certified Entry Network Technician) and the CCT (Cisco Certified Technician) certifications serve as starting points for individuals interested in starting a career as a networking professional. There is no prerequisite for CCT and CCENT.
Associate Level
Candidates with a CCENT under their belt can move on to CCNA (Cisco Certified Network Associate).
The CCNA involves basic skills in installing, supporting and troubleshooting networks. CCNA has also no prerequisite, candidates can either take CCENT first followed by CCNA or sit the CCNA exam straightaway.
Professional Level
Candidates who have passed CCNA are qualified to take on the Cisco Certified Network Professional (CCNP) certification.
CCNP comprises multiple exams wherein candidates are tested with complex networking knowledge. CCNP certified engineers are able to deploy and troubleshoot LANs and WANs. Following is the breakdown for number of exams in different CCNP tracks:
Number of Exams – 3
Number of Exams – 4
CCNP Cloud
CCNP Collaboration
CCNP Data Center
CCNP Security
CCNP Service Provider
CCNP Wireless
There are no CCNP exams for Cisco Cybersecurity Operations and Industrial tracks.
Expert Level
CCIE (Cisco Certified Internetwork Expert) is the most esteemed certification in the IT industry.
For most network professionals, achieving CCIE is a career highlight. However, to obtain a CCIE, a candidate has to pass a written exam followed by an extensive 8 hour practical lab exam that is based on live Cisco equipment.
As per Cisco, less than 3% of all Cisco certified networking professionals achieve CCIE Certification! CCIE certification is admired the world over as a symbol of networking excellence and commitment to continued professional development.
To maintain active CCIE status, CCIEs are required to recertify every 24 months.
Architect level
CCAr (Cisco Certified Architect) is often referred to as the PhD of the Cisco Career Certification program. Cisco offers CCAr under the design track and a valid Cisco CCDE (Cisco Certified Design Expert) certification can act as a prerequisite, along with a thorough understanding of networking infrastructure principle.
Resources and Trainings
Cisco is also dedicated to every candidate's success and maintains a list of available training and self-study resources such as e-learning, practice exams, learning labs, on each certification web page. So, if you're looking to start a career in IT and Networking, Cisco certifications program is your saviour!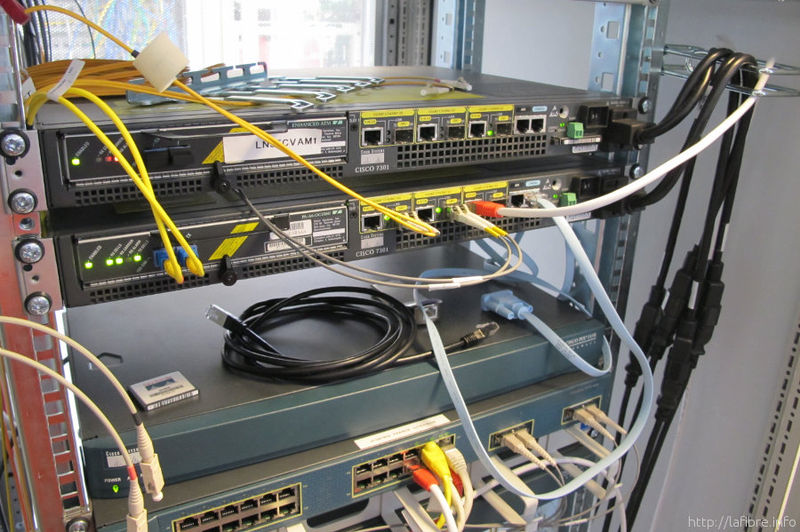 In case you have any questions or want to share your feedback regarding Cisco or their certifications, you are most welcome and I would love to respond as soon as possible.
The following two tabs change content below.
IP MPLS & Enterprise Core Network Engineer, CCIE# 52939
Haider Khalid is an IP MPLS & Enterprise Core Network Engineer (CCIE# 52939) who has worked with several ISPs & Telecom operators in Pakistan, Middle East and the UK. He is always keen to learn new technologies and likes to share them with his peers and other people. In case of any questions or feedback, please feel free to drop a comment below or connect with him on LinkedIn.
Latest posts by Haider Khalid (see all)