​As we know 2-in-1 laptops offer much more flexibility and have fewer gadgets to worry about, they are increasingly becoming popular. So far, it has been Microsoft Surface Pro that is the most sought after 2-in-1 in the market, but HP Spectre X2 is surely giving Microsoft a tough time by offering some excellent improvements.
So without wasting any time, let us start the HP Laptop Review: Spectre X2
Design:
Just like Microsoft's Surface Pro, HP Spectre X2 is also a tablet by design. The best thing about the Spectre X2 is its keyboard which is magnetically attached and can be easily pulled out as per your convenience. Unlike other HP laptops, the design is solid and feels nice to use it on your lap.
The HP Spectre X2 has comprises 2 halves, the top one is the tablet that contains the display along with internal components such as CPU, RAM and storage whereas the bottom one is responsible to bind the keyboard dock and the magnetic connection points let the two halves snap together effortlessly.​​
It weighs 2.49 pounds and is 13.2 mm thin with keyboard or 1.68 pounds and 7.7 mm thin without the keyboard.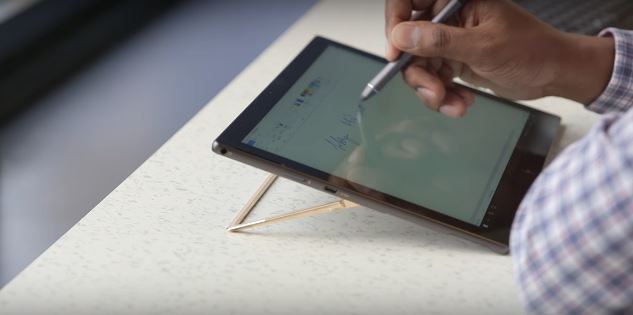 Performance:
The Spectre X2 is quite fast, courtesy Intel's 7th generation Core processor. You can open as many browser tabs as you like and run a number of apps and this 2-in-1 would not disappoint you.​
Battery:
Although HP has made an improvement than last year's model in terms of machine's battery life but still a long way to go to catch up with Microsoft Surface Pro as that can easily cross 10 hours when it comes to the battery.
Display:
The screen size is 12 inch and the display resolution is 3000 x 2000 pixel. This means that there will be no blurriness around images. The display is also bright enough to be used in direct sunlight.
Note that Spectre X2 has an IPS display that retains a clear image even when viewed from extreme side angles.
Hardware:
HP Spectre comes with Windows OS and 360 GB SSD. It is a convertible touch screen laptop having a RAM of 8 GB. The processing power is 2.4GHz and has 7th-gen, dual Intel Core i7 processor​.
There are 2 USB-C ports, which is way ahead of the Surface Pro that has only one standard USB port. The device also includes a standard USB-to-USB-C adapter in the box.
The HP Spectre X2 has plenty of input methods too: pen, touch and keyboard.
HP Laptop Review – Spectre X2:
Conclusion:
To summarize, considering HP Spectre X2 features and also the price difference that it has in comparison to the Surface Pro, the HP Spectre X2 is the best hybrid PC in the market at the moment.
However, HP seriously needs to do something about the battery life issue, particularly when the Surface Pro offers about 4-5 hours more battery time.
The following two tabs change content below.
IP MPLS & Enterprise Core Network Engineer, CCIE# 52939
Haider Khalid is an IP MPLS & Enterprise Core Network Engineer (CCIE# 52939) who has worked with several ISPs & Telecom operators in Pakistan, Middle East and the UK. He is always keen to learn new technologies and likes to share them with his peers and other people. In case of any questions or feedback, please feel free to drop a comment below or connect with him on LinkedIn.
Latest posts by Haider Khalid (see all)