Note: This is a guest post by Ahmed Zeeshan, HCIE# 11848. We are grateful to him for sharing his HCIE journey on our blog in order to help those who want to go for this esteemed certification.
In case you have any queries or would like to connect with Ahmed, you can drop him a message on his LinkedIn.
My Journey to Huawei HCIE 🙂
Back in my university days, the subject I disliked the most was Computer Networks. However, when I was in the final semester, our university offered CCNA training course for students who had interest in Computer Networks, but I took this course as a challenge. It was very soon that I started taking interest in Networks and began playing with Cisco devices on simulators such as Packet Tracer and GNS3 as a result of which, I got my first job at PTCL (Pakistan Telecommunications) a few weeks after I had graduated back in 2008. By 2009, I was Cisco CCNA certified which proved to be a big confidence booster and set me on my career path.
The fixed-line Network operator for which I was working had Huawei Datacom devices, but I never thought about doing any Huawei certifications as Cisco was everybody's go-to vendor. So, I continued taking Cisco exams and by 2011, I was CCIP (Cisco Certified Internetwork Professional – Retired Certification Exam) certified. Meanwhile, I also switched my job to a GSM operator where the whole MPLS core comprised Juniper. So, I started studying Juniper and decided to take Juniper exams as well and after about 3 years, I became Juniper's JNCIP certified too in 2014.
Since that GSM network also had some of the Huawei devices and I got a chance to get my hands dirty on them from time to time, I was always as comfortable with Huawei as I was with Cisco or Juniper therefore. Hence, the next ISP that I joined comprised Huawei MPLS core.
Although I have been working with this company for 6 years now, but until last year I didn't find any charm in Huawei certifications. I rather prepared for Cisco CCIE exams (SP and R&S) and also took R&S written exam twice and SP exam once but never appeared in the lab exam. Cutting the long story short, I had lost all my interests in traditional certifications and started focusing on new technologies and related certifications like OCSA, AWS. I started learning Python and Cloud based technologies.
At the same time, our employer provided us with certain training materials for some of the latest technologies such as 5G, NFVs, SDNs and Cloud solutions. I started developing keen interest in these new technologies and indulged myself in materials and case studies related to them. After a while, our employer provided us with associate-level exam vouchers and I immediately grabbed the opportunity and prepared myself for HCIA-Cloud Solutions Architect exam.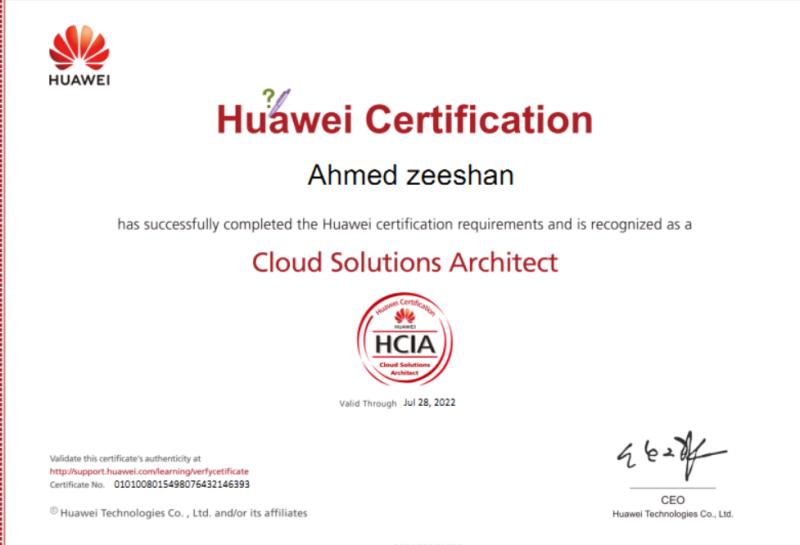 It gave me enough motivation to prepare for an expert level certification yet again and this time, it was Huawei's HCIE R&S as I was highly impressed with the study material shared with us.
So, I with some of my friends formed a study group to prepare for the exam. First, I passed the written exam which was the easiest part of this esteemed certification. It enhanced my confidence and got me more motivated to go for the lab exam. In the second phase, I started preparing for the tough lab exam and after many hours of extensive study and practice, I managed to ace the HCIE lab. If you ask my honest opinion, the lab exam was very testing as it was an 8 hours lengthy exam and required a lot of patience and time management to get through. The final part of this certification consisted of an hour long one-to-one interview. For me it was the toughest part of this certification as the interviewer tested me on all concepts related to questions asked in the exam.
I am grateful to Allah, the Almighty that with His help and blessings, my efforts have paid off and after 6 months of hard work and toil, I am HCIE (HCIE# 11848) certified now 🙂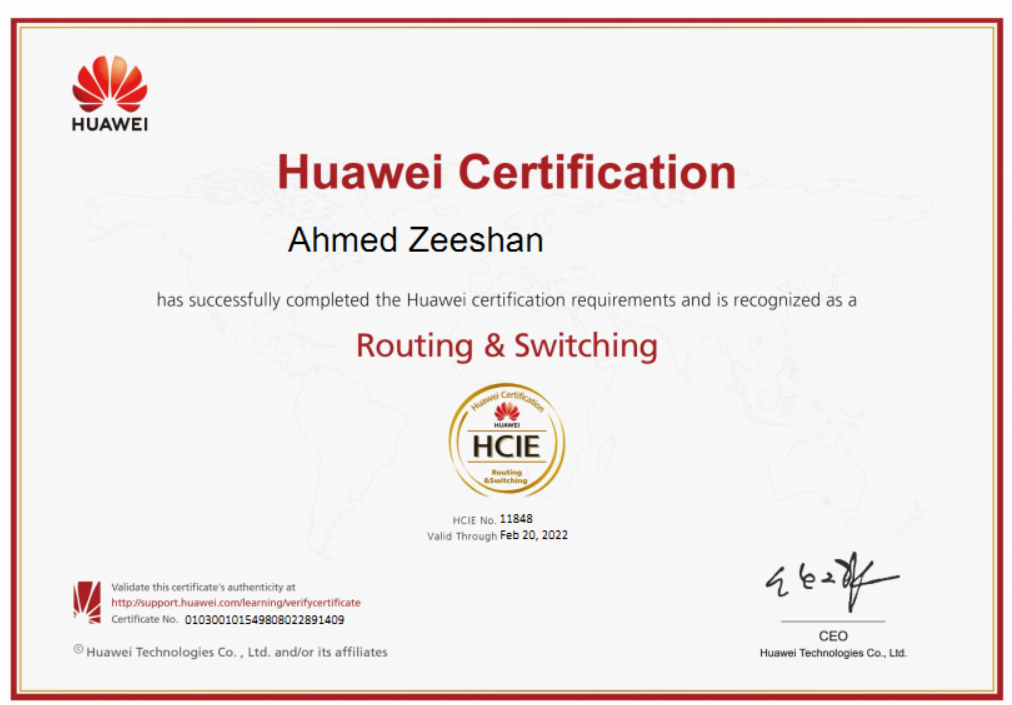 Below is the study material that I followed in order to nail Huawei HCIE exam:
Written Exam



a. Hedex
b. HCIE-Routing_&_Switching_V3.0_Training_Material (the study book available online on Huawei site for HCIE R&S)



Lab Exam



a. HCIE-Routing_&_Switching_V3.0_Lab_Guide
b. HedEx
Tool used: eNSP
Following are the links I used for preparation of Interview along with the E-Book I mentioned for the Written exam
RSTP –
https://support.huawei.com/enterprise/en/doc/EDOC1000142081/e263e63/improvements-in-rstp
QoS – www.h3c.com/qos
BGP – https://support.huawei.com/enterprise/fr/doc/EDOC1000088749?section=j00d

http://www.networksorcery.com/enp/rfc/rfc4271.txt
OSPF – https://support.huawei.com/enterprise/en/doc/EDOC1100082074

https://forum.huawei.com/enterprise/en/ospf-lsa-types-explanation-and-differences/thread/466541-863

https://www.slideshare.net/rushi7567/comparing-ospf-vs-isis

https://routingfreak.wordpress.com/2011/03/05/why-providers-still-prefer-is-is-over-ospf-when-designing-large-flat-topologies/
PPP – https://support.huawei.com/enterprise/en/doc/EDOC1100055407/40b134a7/overview-of-ppp

https://support.huawei.com/enterprise/en/doc/EDOC1000097193?section=k005
BGP MPLS VPNs – https://support.huawei.com/enterprise/en/doc/EDOC1000178118/b5f87131/bgp-mpls-ip-vpn-fundamentals
NAT – https://support.huawei.com/enterprise/en/doc/EDOC1100027155?section=j008&topicName=nat
The following two tabs change content below.
Ahmed Zeeshan
Senior IP MPLS B2B Provisioning Engineer
Ahmed Zeeshan (HCIE# 11848) is a senior IP MPLS and Hybrid Multi-Cloud expert who has got several Huawei, Cisco, Juniper and Amazon certifications under his belt. He is highly experienced and has worked with top ISPs and Telecom operators in Pakistan and Oman. Ahmed likes to share his knowledge and experience in order to assist people with technical issues and difficulties. In case of any questions or feedback, please drop a comment below or connect with him on LinkedIn.
Latest posts by Ahmed Zeeshan (see all)