Note – This is a guest post by Muhammad Awais Butt, CCIE# 51557 & CISSP. We are grateful to him for sharing his experience on our blog once again in order to help those who want to go for this advanced Information Security certification.
In case you have any queries or would like to connect with Awais, you can drop him a message on his LinkedIn, Muhammad Awais Butt.
How to Pass the CISM Exam
Alhamdulillah, I have cleared my Certified Information Security Exam (CISM) on 10th October, 2020 and have written this article to help CISM aspirants in their journey. Good luck 🙂
#CISM #informationsecurity #cybersecurity #cloudsecurity #infosec
Hello Everyone,
The purpose of this document is to write down my strategy of clearing my Certified Information Security Exam (CISM), which I passed on 10th October 2020 after 81 days of rigorous study.
So, the journey started by narrowing down books to study for exam and I first started with 15th edition CISM Review Manual but after reading 1st chapter I was still clueless and couldn't understand the concepts as this book is very dry and with poor vocabulary. So, I shifted to CISM all-in-one Exam Guide and really liked the content of this book. My roadmap was to study each chapter in 4-5 days and highlighting important concepts and completed the book end to end in 26 calendar days (study plan in below link).
STUDY PLAN
https://www.linkedin.com/posts/muhammad-awais-butt-a18a3791_cism-selfpaced-activity-6701012472863830017-AoE2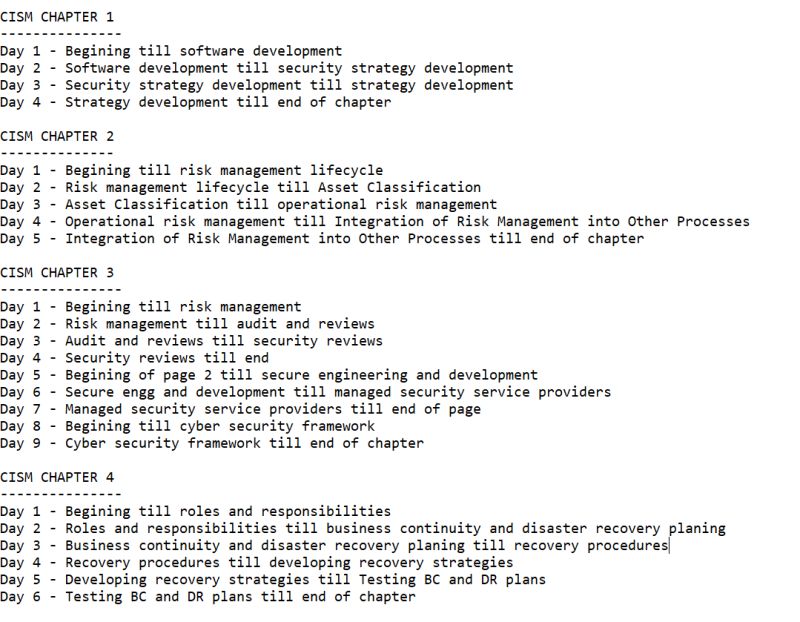 After completing CISM A-I-O exam guide, I moved back to CISM 15th edition review manual and surprisingly was able to digest most of the content and in parallel started solving CISM review questions, answers and explanation manual (roughly around 50 – 100 questions a day). It again took me around 01 month to complete CISM 15th edition and first iteration of CISM review Q-A-E bank with below percentages.
      Domain 1 -> 75%
      Domain 2 -> 70%
      Domain 3 -> 72%
      Domain 4 -> 72%
Till now I had completed study of 02 books end-to-end with one iteration of CISM review Q-A-E bank and then decided to dedicate last 03 weeks completely to review my wrong questions by answering them again with my own reasonings and afterwards matching them with original explanations and this really helped clearing my concepts. I kept on doing the same drill till I was almost 95% correct in all domains and this involved a lot of online research as well to clear my concepts.
Please note that CISM doesn't have much credible study material or sample questions on the Internet. So, I had to make sure that whatever you are studying makes sense and doesn't contradict with ISACA official guides/books.
D-DAY
ISACA is giving the candidate an option to give paper from home as well, but I opted for PSI center and reached there almost 30 mins prior to the exam. Refreshed myself and after all prerequisites for exam sorted out, I clicked the button to start my paper.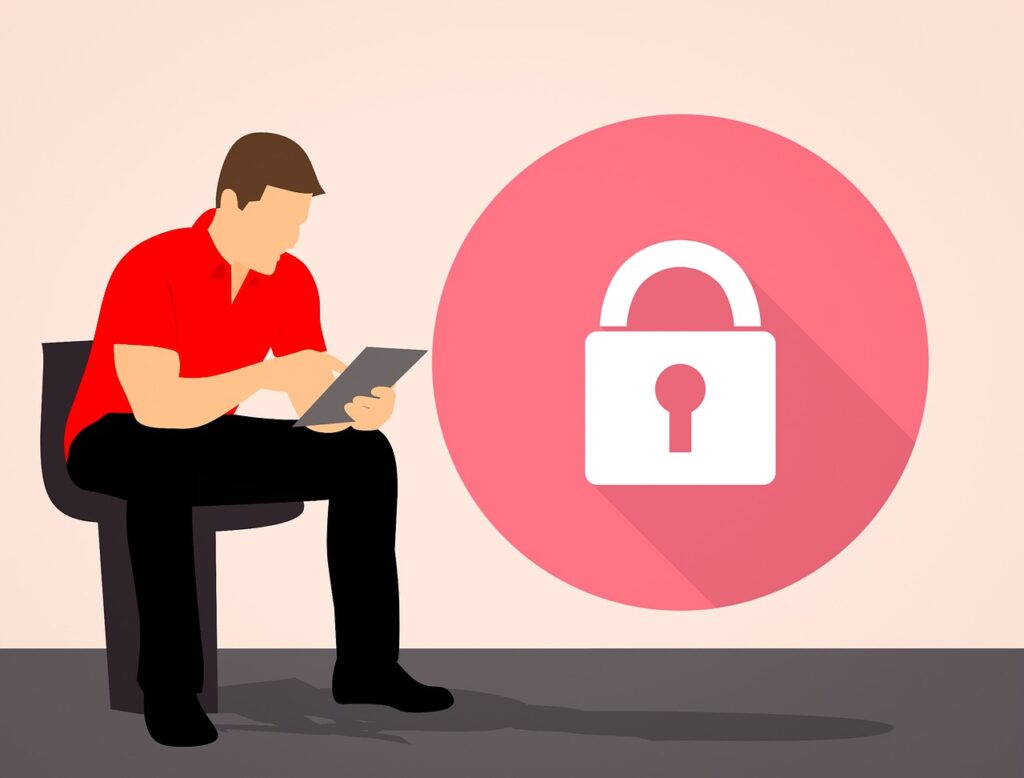 The exam was tough and tricky, but thankfully questions were straight forward unlike CISSP and pattern was almost exactly like Q-A-E guide. I completed all 150 questions in 2.5 hours and flagged around 20 of them too – took 10 mins break and then started to review from the 1st question as I had an ample amount of time left. During this review, I changed almost 10 answers and completed it in around one hour and ended the paper in 3.5 hours with the message that I preliminarily PASSED the exam. 😊
P.S. I studied almost 4–5 hours daily and hardly skipped any day during my 81-day journey.
GOOD LUCK EVERYONE!
The following two tabs change content below.
Muhammad Awais Butt
Network and Security Engineer, CISSP & CCIE# 51557 (DC)
Muhammad Awais Butt is a highly qualified Network and Security professional who possesses CCIE DC (CCIE# 51557) and CISSP along with several other network and security certifications. He likes to share his knowledge and experience with people working in the IT sector or pursuing a career in this field. In case of any questions or feedback, please feel free to drop a comment below or connect with him on LinkedIn.
Latest posts by Muhammad Awais Butt (see all)